Integrated eCommerce for Manufacturers, Wholesalers & Retailers
360 Commerce is a powerful, integrated, scalable B2B/B2C eCommerce platform. It was built specifically for B2B environments and has all the features to meet the complex needs of B2B businesses and customers while also providing a seamless B2C retail solution.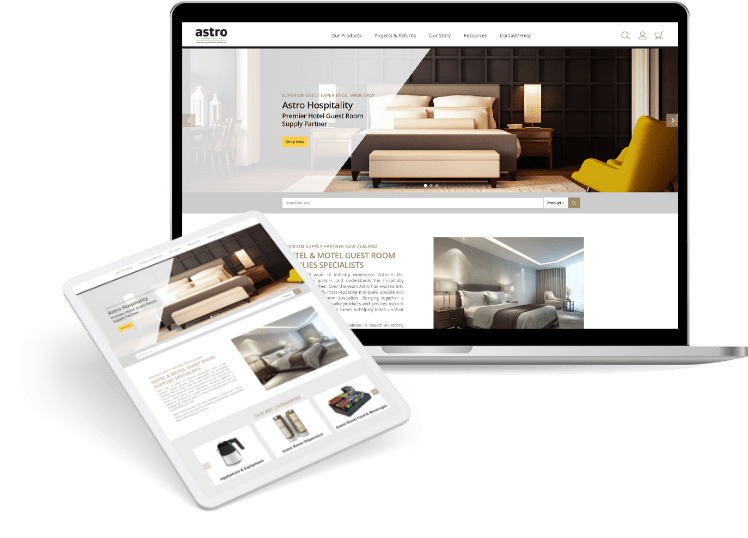 Power & Flexibility
360 has a unique smart component structure which does away with traditional fixed website templates and themes. You simply choose smart components from our features list to create whatever page you or your customers need.
This allows you make the website fit the business and your customers requirements rather than the other way round.
Every component is highly configurable so that every web page can have the WOW factor in looks and brand presentation.
With over 200 features, 360 will do everything you need and if you find it can't, we can add what you need to the platform.
Risk Reduction
You'll benefit from a streamlined configuration setup process that lets you choose the right components and modules to meet your need's.
Because you can see every feature before you commit, there are no uncertainties.
Being Website as a Service, we are continually adding new features to give a long life to your website.
The service is hosted on Microsoft Azure which is a world-best cloud infrastructure.
The monthly fee model means predictable costs which include all upgrades and partner stability.

360 Commerce utilises the power of Microsoft .NET platform.

100% Support - Our technical team is here to help whenever you need us.
Ease of Use
Content management and page building is a breeze – no need for your staff to be technical at all.
New pages can easily be created in just a few minutes by your staff.
360 Commerce is easy to use for your customers – this will mean more sales for you.
Continuous Improvements
360 is a platform that is continually improved, your site will last for years eliminating the costs of periodically replacing your site. Say goodbye to costly rebuilds of your website every 3-5 years just to keep up.

Because 360 Commerce is a constantly updated environment, designers, developers and users are able to refresh your website at will, without the risk of version conflicts within the system.
This off the shelf functionality gives you the best of both worlds and is fine-tuned to suit the way your business operates.

Competitive Advantage
360 Commerce gives you everything you need to keep your website optimised now and for the future, accelerating your business and your profits faster than a typical custom build.
If you have a specialised function or integration that isn't part of the standard smart components or modules then we can build that bespoke module for you. This flexibility gives you the best of both worlds so you can fine-tune your site to suit the way your business operates.
Online Success - All of the above ensures that your website will not only address the needs of your existing customers but will also bring you new customers.

Ecommerce Solutions for Key Stakeholders
360 Commerce delivers results to all areas of a business.