Scott Electrical
B2B & B2C - Electrical Wholesaler

Background
Founded over 80 years ago in 1935, Scott Electrical Ltd is still 100% New Zealand owned. From these early beginnings as just one Auckland store, today, Scott Electrical is one of the largest Kiwi owned and operated electrical wholesalers in the country with branches located from the Far North in Kerikeri all the way to Rotorua.  They employ over 100 experienced staff in sales, technical and supporting roles.
Scott Electrical is also part of the Powerbase group, a nationwide network of independently owned electrical wholesalers. This means their customers can benefit from the buying power of a major group so they can provide competitive pricing across all their projects nationwide.
As an electrical wholesaler, Scott Electrical's core business is the supply of all types of electrical components to the electrical trade. This encompasses residential, commercial and industrial applications, including publicly owned and operated buildings. Their systems are designed to give the fastest possible service, from answering enquiries to delivering products to meeting deadlines.
Requirements
Scott Electrical desired an advanced e-commerce website and customer service portal where customers can research products, place orders and access account balances, invoices, credit notes, quotes and orders 24 hours a day, 7 days a week.
A comprehensive Request for Proposal (RFP) covered:
Complex on-account pricing
Customer portal features such as viewing all orders, quotes, invoices and credit notes
Click and collect functionality
Full NetSuite ERP integration including all product information, customer account information and order information
Realtime stock and price levels across the tens of thousands of products
Delivery
Scott Electrical selected the 360 Commerce platform after a thorough evaluation process. They chose 360 Commerce because the platform offered most of the key requirements out-of-the-box. In addition our platform also offered the flexibility to add new features and functionality such as:
Individual branch stock levels
Click and collect
Viewing of Invoices and Statements as a PDF
Fast order forms
360 also developed a standalone image application which automatically sourced, extracted and renamed thousands of product images for Scott saving hundreds of hours of work for Scott Electrical staff
Success
The new Scott Electrical website went live late 2021 and is now one of New Zealand's largest online electrical e-commerce websites/ordering portals. This has allowed Scotts to take their online operations to the next level and provide customers with the ability to:
Log in using their business credentials and manage their orders
View all account information, order history, statements etc.
Browse products and purchase through a streamlined checkout process
Bulk repeat ordering via 'Fast Ordering' processes and scanning product barcodes
Real-time stock availability for every branch
Click and collect
All of the above has replaced time consuming manual processes, enabling Scott Electrical staff to concentrate on more productive aspects of the  business.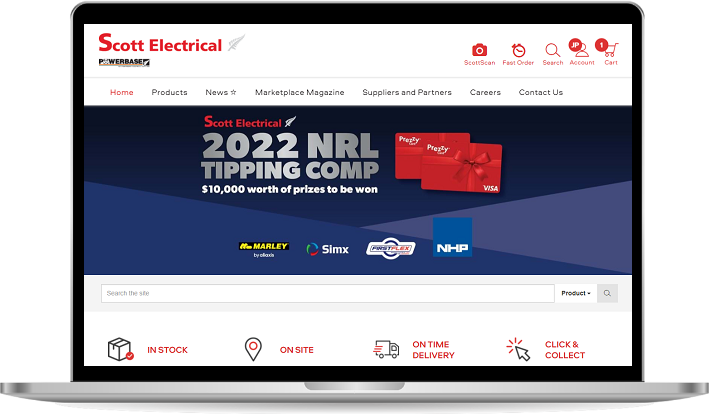 Key Features

Shop products B2B & B2C
Full NetSuite ERP integration
Automated product page creation
Real time stock availability
Click & collect orders
Different information for different users
Customer order history
View aged credit balances
Search for, view and print invoices and credit notes
Search for, view and print quotes
Download product information sheets
Custom business rules 
Contract pricing
Fast order template
Order online by scanning barcodes
Order on behalf
Advanced search features
Custom page layouts
Full search engine optimization
Responsive website design for phones and tablets